Find Your Home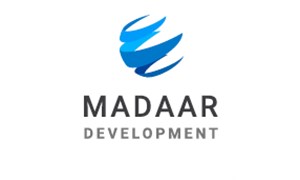 Madaar
Madaar Development is a full-service, privately held commercial and residential real
estate investment and development company with a distinguished ability to rapidly move
any project from site selection, acquisition, financing, construction, property management
and maintenance. The Core Principles that define Madaar are the stability, creativity
and professional expertise of our management team; an aggressive long-term business
plan; a commitment to excellence and stellar service; our close relationships with strategic
partners, tenants and real estate professionals; a consistent ability to add value; and most
importantly, our unwavering pursuit of visionary development.
Overview
Azha is a waterfront resort designed to be a luxury destination with international standards.
Located in Ain Sokhna left side where the sandy beach is. Bringing together an
active casual lifestyle with 5 Star comforts.
The development spreads on an area of nearly 1.6 million square meters with a waterfront
stretching approx. 700 meters on the clear waters of the Suez Gulf branching from the
Red Sea.
Sublimely located on the left side of Ain Sokhna, Azha is a new resort community for
those who prefer a distinctively refined yet casual lifestyle. The tranquil waters are swimmable
year-round, making it a coveted destination for outdoor adventure and activity.
Featuring spacious and inspiring Residential Villas, a thoughtfully-designed modern
resort, signature restaurants, serene spa and community centers, and a host of exceptional
amenities, Azha brings a new vitality to the authentic lifestyle of a city resort living.
Features
Retail Area 50,000 m2.
Club House '' Gym – Spa – indoor.
3 Hotels.
Aqua Park '' Canadian Company ''.
Beach club House opening in 15 /1 '' Spain company ''.
Park for events.
7 community centers serve the entire project.
1st Row '' Fendi ''.
Fully Finished Stand Alone, Twin Villas, Town Houses
Delivery 2018
Payment Terms:
15% for Reservation & Contract.
5 % after 3 Years.
80% over 6 years'' installments ''
5% Maintenance '' first 3 years ''